Architects are always looking to create unique designs. Incorporating natural elements into a design has become increasingly popular and is an excellent way of mixing styles and creating specific aesthetics. One popular natural element architects are turning to is water. Water, as an element in architecture, is powerful. It can connect the past and present, evoke emotion, and involve all of your senses, among countless other possibilities.
Water in Architecture: Then and Now
Centuries ago, water wasn't an intentional part of the design; it was essential for survival. People settled by bodies of water by necessity, so they could readily access clean water for their day-to-day activities. Over time, water has become more readily available, and people no longer need to settle so close to bodies of water.
People are now using water in architecture to add elements of nature and create a specific feeling within the design. There are so many ways to combine architecture and water, and modern techniques have made it possible to be more creative than ever. Now, designs with water are only limited to the architect's imagination.
Here are seven creative ways to incorporate water into architectural designs:
1. Create an L-Shaped Pool Around a Modern House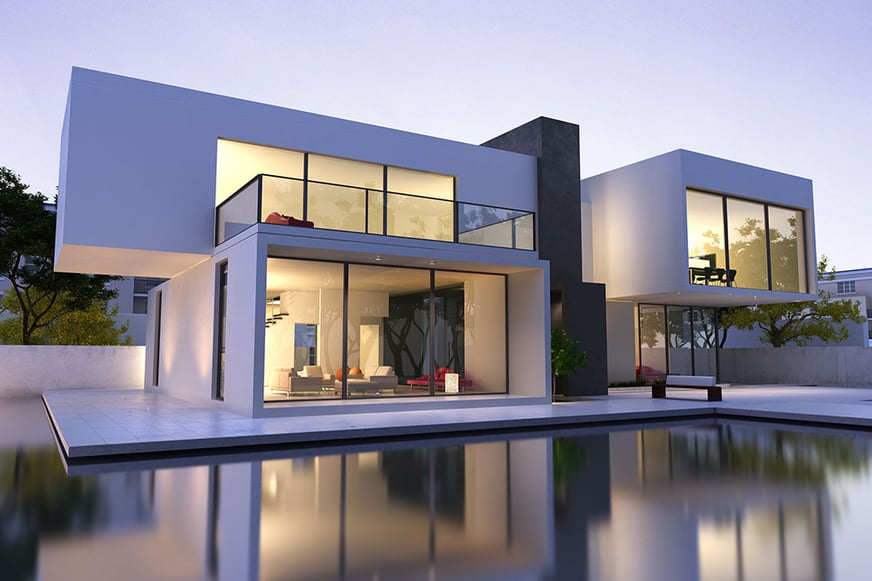 The most common use of water in architecture is by creating a pool.
In the past, pools were seen as a status of wealth. That viewpoint has changed as pools have become more affordable. No matter the size or style, pools still provide entertainment and relaxation.
Pools can also have any look the designer or owner desires. This pool design complements the house's modern straight-edged design with a sleek L-shape.
2. A Dramatic Rain Shower Waterfall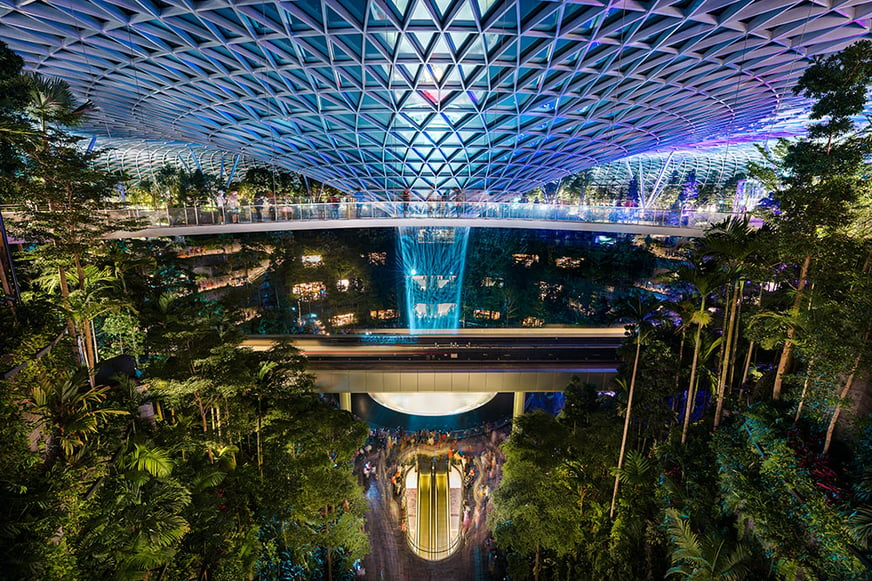 Combining greenery with water in landscape architecture is another popular style. Here, you see an area in the Shanghai airport with a very modern glass ceiling, with a dramatic rain shower-style waterfall flowing down from the center, surrounded by lush greenery and walkways.
3. A Reflecting Pool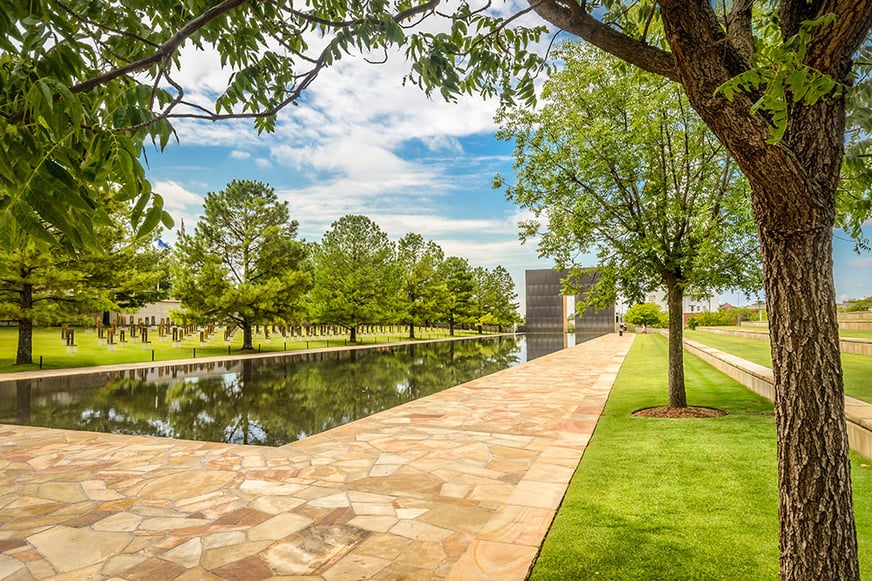 Reflecting pools aren't just reserved for monuments. You can also incorporate these shallow pools into the design of homes or other buildings. Reflecting pools are a creative use of a water body in architecture and can help to highlight specific parts of a building's design and elongate a building. They can also add to the outdoor aesthetic, and create a peaceful or romantic feeling.
4. Create a Man-Made Lake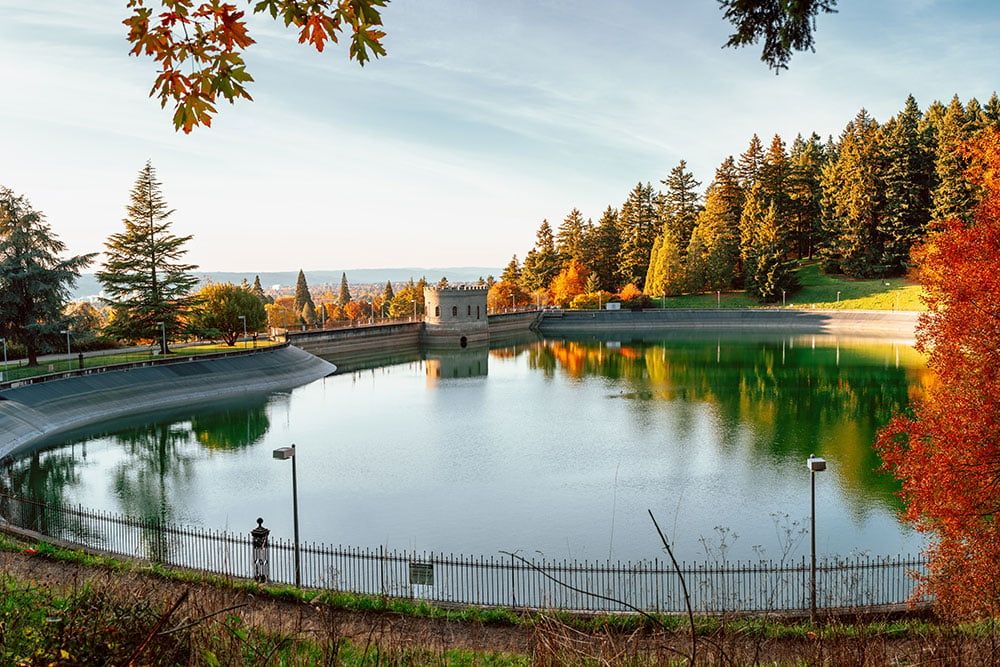 Another way to use water as an element in architecture is to create a man-made body of water. These are common features of civic areas, like parks, which are open to the public. The one pictured above, from Downtown L.A., is simple; it features a lake, plants, and a geyser-like water feature further in the water.
5. Create an Eye-Catching Fountain
This park in Singapore keeps its lake relatively simple in its overall design. Here, they added a water fountain that sprays water into the lake to create more visual interest. The water coming out of the fountain looks like it is coming from a dragon's mouth, and it overlooks some unique architectural details from the other side of the water.
6. A Pond with a Waterfall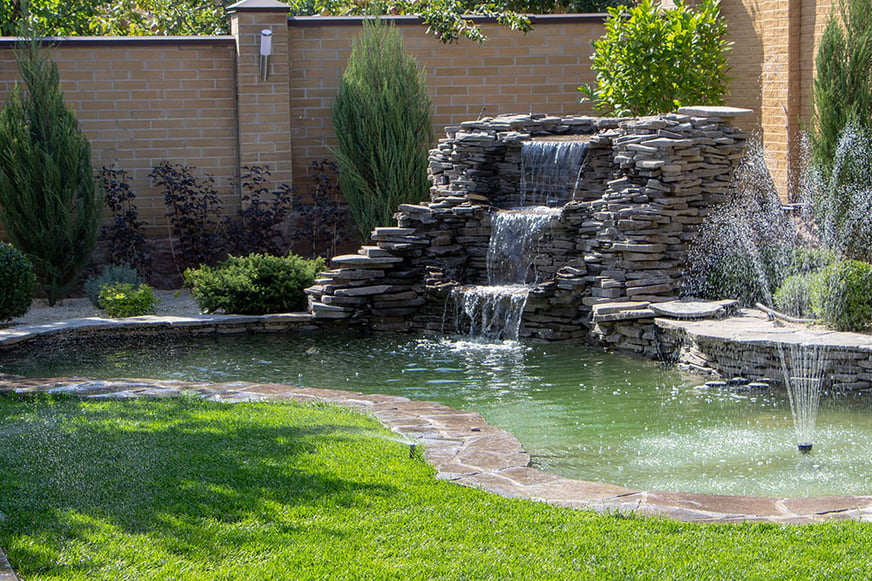 There is nothing more tranquil than a waterfall in landscape architecture. Even artificial waterfalls can create a serene and peaceful atmosphere, especially in busy areas where you may want to block out the noise of traffic or neighbors if it is in a residential property.
7. A Pool with a Vanishing Edge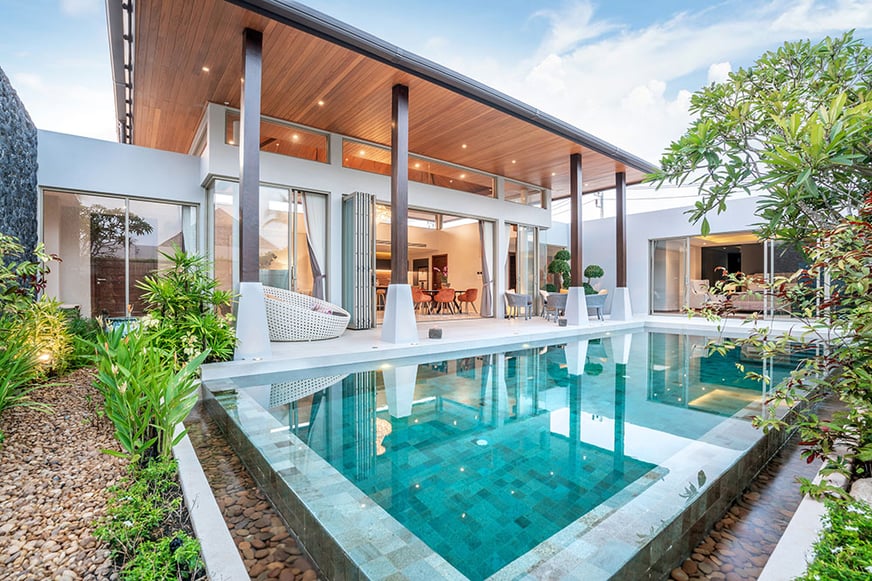 Pools provide an excellent opportunity to take advantage of beautiful views in your yard. Here, the homeowners have created a pool with a vanishing edge, with greenery surrounding the pool on one side while the house overlooks it from the other. It creates a stunning image that would be the talk of any party.
Protect the Architecture with Proper Drainage
Water in landscape architecture needs to be carefully planned, and drainage is still essential to avoid damage to buildings and the surrounding ground. A floor drainage system will help ensure that any water runoff is pulled from the surface and directed to the appropriate outlet, to allow the ground to stay dry. This eliminates the risk of slippery floors, bacteria growth, fly infestations, and much more.
Landscape Drains offers high-quality, attractive drainage options. The sleek design of the Slot Drain System is the perfect companion for water in architecture, as it blends seamlessly into the ground, to become virtually invisible, without sacrificing efficiency.
Adding Water to Architectural Designs
Water and architecture have always gone together, with water being by necessity or by desire. The design possibilities are endless these days, with architects and designers finding increasingly creative ways to combine the two into cohesive designs. This list shows just some of the creative designs created in private and residential properties. Use them as inspiration for adding water features to your own properties.
With these water features, you want to ensure you have proper drainage. To learn more about landscape drainage options like the Slot Drain, contact Landscape Drains today.