Different Landscape Drainage Designs to Properly Drain Outdoor Spaces
Landscape design is an art form. To create your perfect garden or patio space, time and care is needed to plan the various details of the design. A proper design needs more than greenery and hardscape; it also needs a reliable drainage system. Without proper drainage, a carefully designed landscape can become damaged or destroyed by heavy waters and runaway soil beds.
For landscape drainage designs, the best option is a low-profile system that is effective without being obtrusive.
What Are Low-Profile Drainage Systems?
Landscape drainage designs with a shallow profile call for a different solution: a low-profile drain system.
Low profile drains are drainage systems that do not have a lip, which allows the system to merge seamlessly with the floor and eliminate any tripping hazards. They are typically incorporated into landscape designs in areas that have a shallow profile. They have a slim opening that doesn't necessarily require a grate covering, making it possible for the system to blend in and become virtually invisible.
Benefits of Low Profile Drainage
There are several benefits to low profile landscape drainage design:
1. An Attractive Option
Appearance is everything in landscape design. Designers take every detail into account when coming up with the perfect design, whether for a public park or a residential backyard. Using a low profile drainage system, landscapers can provide the necessary protection from water damage without a bulky system. These systems can become one with the design, either with decorative grates or by appearing like a grout line in-between pavers.
2. Safer and ADA-Compliant
The elimination of the raised edges in low profile drains creates a safer system, eliminating any tripping hazards that would otherwise exist. This design also means a low profile drainage landscape design is ADA compliant - with or without grates - making it suitable for public spaces like parks, plazas, and pools.
3. Easier to Clean
Low profile landscape drainage design also requires less maintenance than the more traditional systems. Systems like Slot Drain eliminate the need for grate covers, and take significantly less time to clean than those that have grates. Whether they have a grate or not, maintenance workers are able to clean these systems manually using a brush and paddle or use self-cleaning functions.
Trench Drains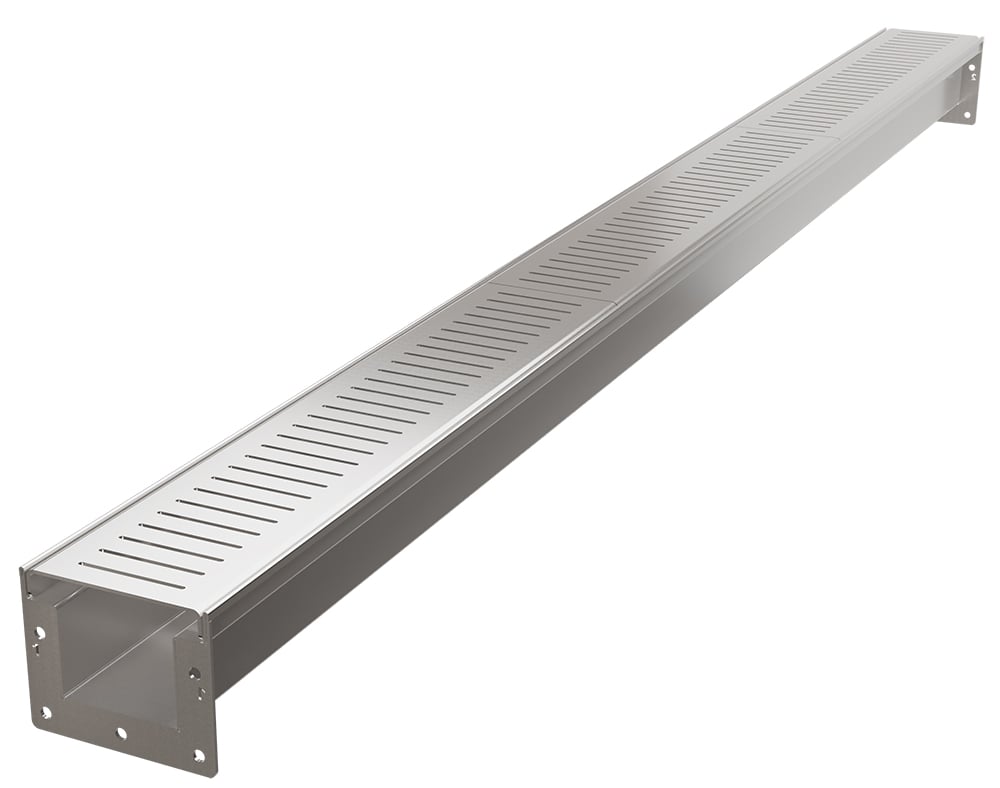 One of the most common drainage options on the market is a trench drain. Trench drains feature wider channels that can handle large amounts of water and are covered by a grate. Designers can choose from decorative grates to ensure their drainage matches the overall landscape design. It is a sleek, durable system that would serve well in any design.
Slot Drain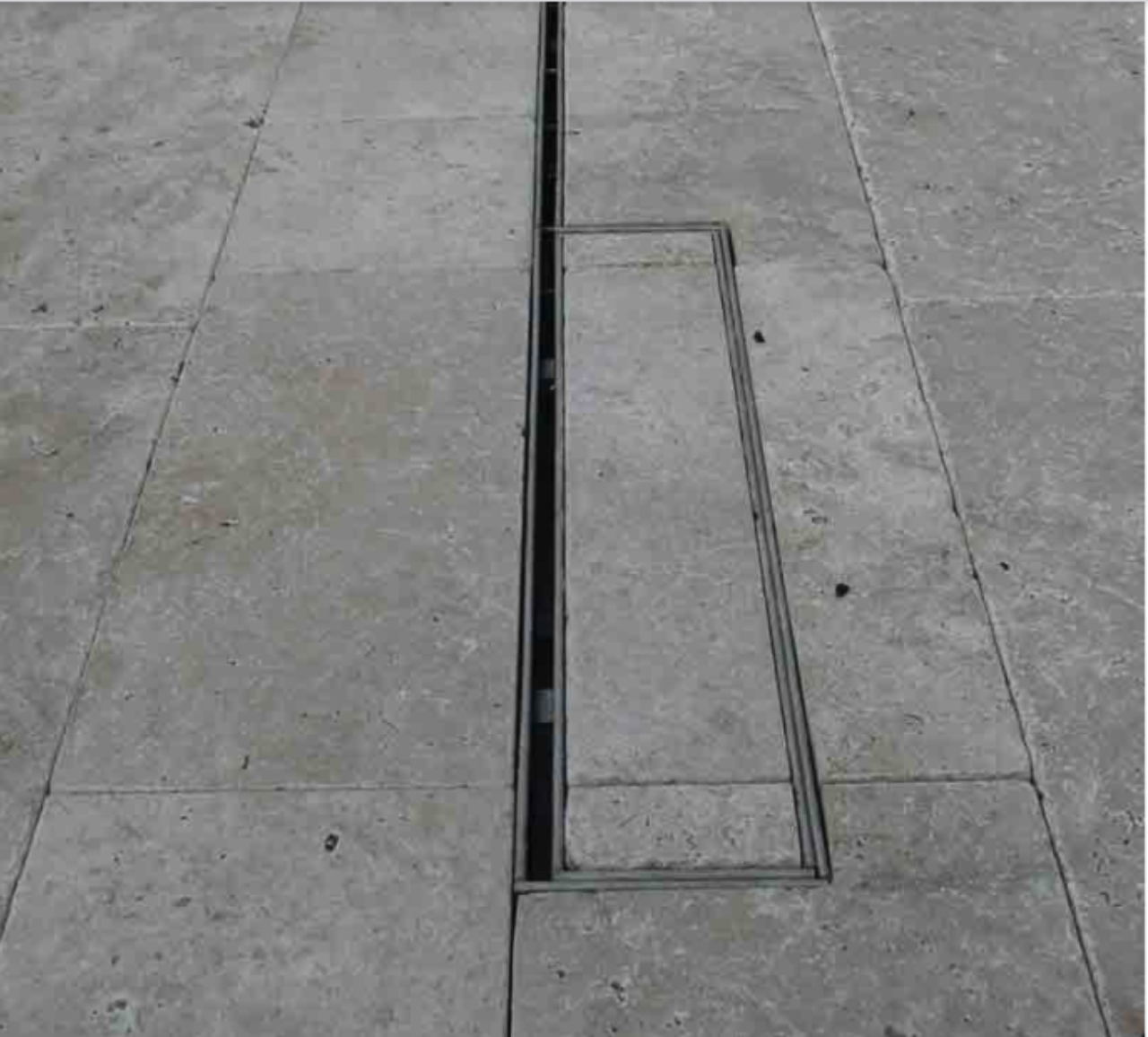 Slot Drain is a low profile drainage system that does not require a grate cover, making it ideal for a subtle landscape design since it can seem virtually invisible once in place. The slim channel opening ensures that larger foreign objects do not end up in the drain, while you can still retrieve smaller objects (like keys) from the catch basin.
The 7000 Series Slot Drain comes in a stainless steel finish, offering high durability and impact resistance. This model is ideal for larger landscape designs. Other options include the 3000 and 6000 Series, which are best for lighter landscape drainage design needs.
Three Applications for Landscape Design Drainage
1. Along a Residential Patio Space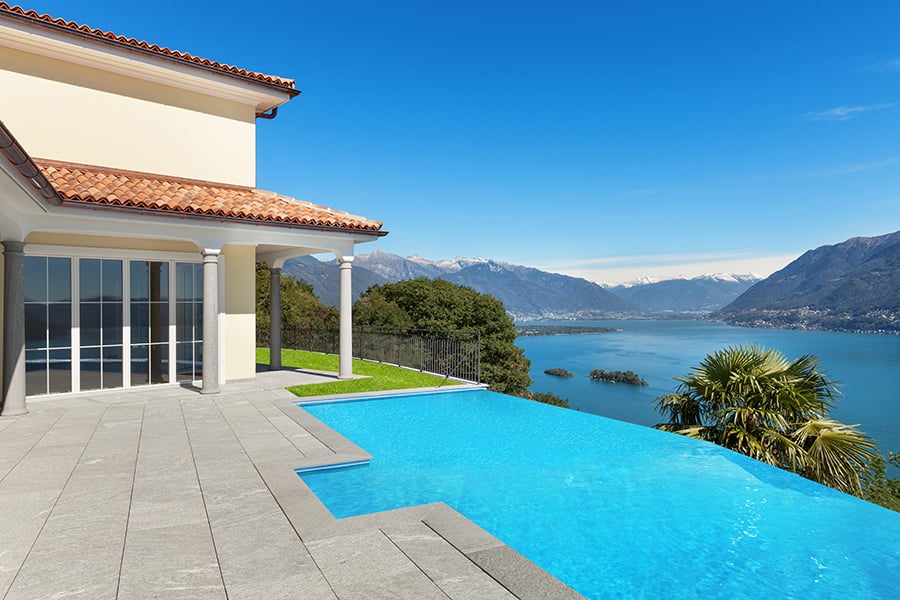 Having a drainage system when you have a pool is critical, but it is good to include a drainage system in your landscape design, regardless. Having a system strategically placed along your patio will provide crucial protection from water, be it from the pool or weather. The system will ensure water does not reach your structure, where it can cause potentially serious damage.
2. Public Parks
Designing and maintaining a public park is expensive. Without proper drainage, a landscape design can become ruined from heavy rain or sprinklers. Installing a low profile drainage system will help manage the water efficiently without detracting from the design or creating safety hazards for visitors. It also keeps city employees from having to deal with drainage issues that may occur following heavy rain. Once a drainage system backs up, the rest of the landscaping is now in danger. The ability to rely on a proper drainage solution will save both time and money.
3. Help Drain Landscaped Area with Pool or Hot Tub
Slot Drain's discreet design works perfectly with landscaping areas that involve a pool or hot tub. Pools and hot tubs are meant to swim in, and anytime someone swims, there will typically be water that gets dripped or sloshed out onto the ground. Having a low-profile slot drain system allows this water to be quickly drained away, protecting the tile or concrete floor from sitting water while keeping pool-treated water away from the edges where landscaping may be growing.
Additionally, being able to drain pool and hot tubs areas quickly is a huge safety bonus. Not only will a slot drain system be able to rapidly drain the water away to avoid anyone slipping, but the low-profile system will guarantee no one can accidentally trip over a drain sluice or grate.
Creating Attractive Landscape Drainage Designs
Landscape designers spend lots of money creating beautiful spaces that can easily be destroyed by flooding or standing water. Protecting these areas with a reliable drainage system is absolutely key. The right low profile drainage system can prevent a landscape from flooding, which in turn prevents further costs and maintenance from water damage.
A low profile drainage system provides the necessary protection without compromising appearances or safety. Systems like slot drain from Landscape Drains are durable, efficient, easy to maintain, attractive (or unseen!), and cost-effective. Contact Landscape Drains today to see which system would compliment your landscaping project.