Parks, gardens, neighbourhoods, and even cities are all examples of landscape architecture. In many ways, it is an art form that helps create beautiful public and private spaces for people to enjoy.
While some landscape design ideas are timeless classics that never change, landscape architects are always looking for new and creative ideas to implement.
What is Landscape Architecture?
In short, landscape architecture involves planning, designing, and managing natural and built elements.
The design process combines numerous principles, including unity, line, form, texture, color, scale, and many others, to create a single, cohesive design that is both practical and pleasing.
There are many types of landscape architecture, including:
Site Planning
Site planning looks at how to use a piece of land most efficiently for its intended purpose. It can also include surface and sub-surface drainage, geology, hydrology, and grading. You can find examples of this in the planning of residences, communities, and estates.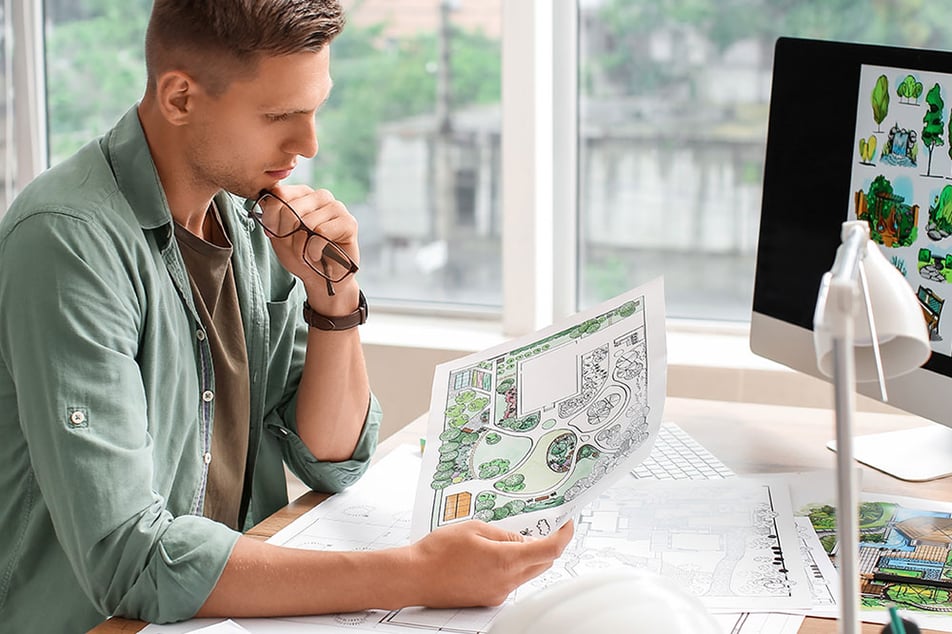 Parks and Recreation
Focuses on designing open spaces and recreational areas open to the public. This can include gardens, arboretums, public parks, playgrounds, golf courses, zoos, and more.
Heritage Conservation
Focuses on recognizing, protecting, and restoring historic lands.
These are just three examples of types of landscape architecture, but there are many others.
Five Ideas for Landscape Architecture in 2023
Here are five landscape architecture ideas to draw inspiration from in 2023:
1. Low Carbon Landscaping
Low-carbon landscaping is a trend that has been becoming increasingly popular in recent years.
The trend of low-carbon gardening focuses on growing local plants, with a focus on herbs, vegetables, and fruits, to reduce your carbon footprint.
Low-carbon gardening also involves making your own compost, using eco-friendly techniques, and allowing the grass and plants to grow freely rather than maintaining a manicured space.
2. Defined Outdoor Spaces

The last few years have seen everyone spending more time gathering outside, and it has led to the desire for defined outdoor spaces. The goal is to create these defined spaces and ensure that their efficiency while ensuring the natural aspect of the space, is not lost. Outdoor spaces can be anything from an outdoor kitchen to an office.
3. Incorporating Metals
Adding metal elements to landscape architecture is something to look for in 2023. These additions connect the outdoors with the indoors and can also add a modern feel to a design. There are endless options, from metal shade structures to planter boxes being incorporated into designs.
4. Add Bolder Details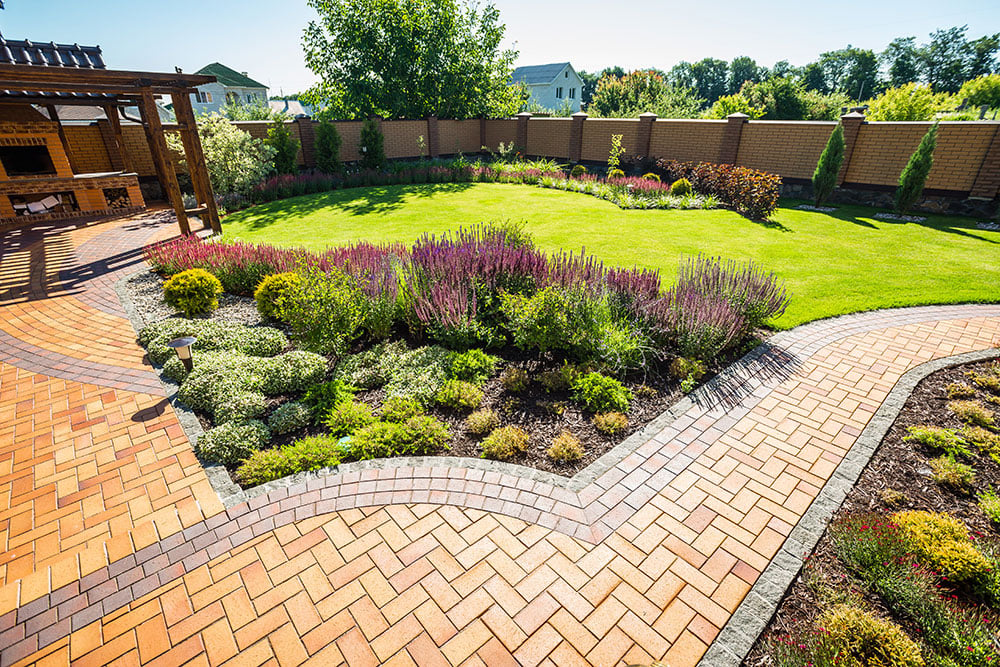 Another landscape architecture idea to watch for is the idea of "more." Gone are the days of simple designs with few bold choices; now, people are looking for bolder designs and decor. Consider additions like a colourful handmade tile and combining a variety of tones and textures into an intentional design.
5. Gardens with Recycled and Reclaimed Materials
Another eco-conscious landscape architecture idea is using recycled and reclaimed materials to create gardens. Reclaimed wood, empty plastic bottles, and repurposed bricks are just some materials you can use to create a unique, environmentally-friendly garden space.
Importance of Having Drainage
One element that all of these landscape architecture ideas need to incorporate is effective drainage. Without a drainage system in place, the area will struggle with standing water, which can create numerous issues:
Standing water can lead to the erosion of the ground and soil.

It can kill plants.

It can attract insects.

It can lead to bad odors, mould, and mildew.

If it gets too close to the foundation of a home or building, it can lead to foundation issues.
A drainage system helps divert standing water and water runoff from the surface so the ground can dry. It helps protect the design and surrounding structures from damage and helps maintain the beauty of the space.
The Landscape Drains Options
Landscape Drains is a company specializing in landscape drainage. They offer two types of systems: the Trench Drain and the Slot Drain.
Landscape Drains Trench Drain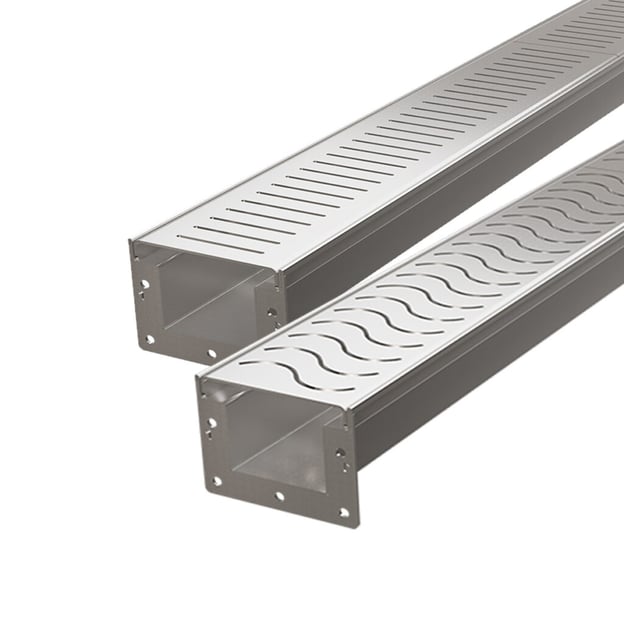 The Landscape Drains Trench Drain is designed with large flow rates in mind and is ideal for places that receive large amounts of rain or struggle with flooding. The system is constructed using highly-durable stainless steel, which makes it capable of handling a heavy-duty load class. It is compatible with a catch basin, which helps catch small objects and debris to prevent them from entering the sewage system, and can be customized with one of three possible drain covers and a custom pan lid for the catch basin.
Landscape Drains Slot Drain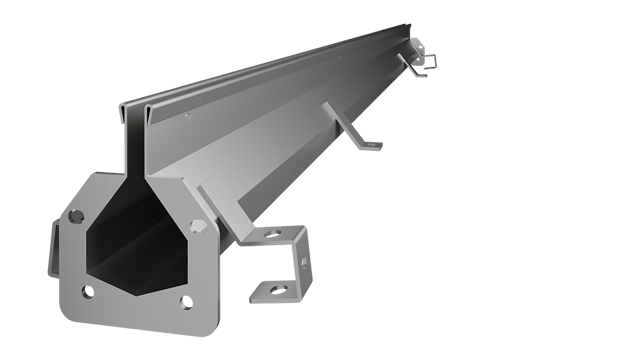 The Landscape Drains Slot Drain is another effective system constructed from high-quality materials. The design is similar to that of the Trench Drain, but the Slot Drain features a slimmer opening, which eliminates the need for a drain cover and allows the system to become virtually invisible. With the Slot Drain, you can choose between the 3,000 Series, 4,000 Series, 6,000 Series, and 7,000 Series. They all offer the same flow rates, up to 27 GPM, but their load-bearing capabilities can differ, as well as the materials used for the construction. It is also compatible with the catch basin, and both systems also offer Flush Flo and Clean-In-Place technology to automate cleaning.
Getting Creative in 2023
With the new year just beginning, everyone is looking to refresh their space or create something new. If you want to keep up with the latest trend, consider these five landscape architecture ideas, which can help you make a statement with your design.
Before you implement your new design, ensure your drainage system is in place so you don't have to worry about potential damage from rain and standing water.
Contact our knowledgeable team today to learn more about the systems that Landscape Drains offers and find out which is best for you.