Courtyards have a long and global history; even in ancient times, homes included courtyards. There has been a spike in the popularity of courtyards in the U.S., especially in warmer-climate areas. Unlike backyards, a courtyard is more private and relaxing, and allows light and fresh air to move through the space. A courtyard can be big or small, and you can design it according to your taste to make it the perfect private retreat.
Tips for Transforming Your Courtyard
Like a backyard design, courtyard designs require planning to achieve a cohesive and aesthetically pleasing result. Here are some tips to help start the transformation and some courtyard landscape ideas for inspiration:
1. Use Your Available Space Efficiently
Residential courtyards aren't big spaces, so you want to be efficient with how you use what you have. This means coming up with small courtyard landscape ideas that are flexible and create a multi-purpose area. Take the time to decide the different ways you want to use the space, and then figure out how you can combine them into a single, functional design.
2. Keep Things Simple
When coming up with landscape ideas for small courtyard spaces, one of the most important things to remember is to keep things simple. Adding too much would make the space cramped, and feel too busy, taking away that relaxing feeling. Simplicity in design will also mean less maintenance for you.
3. Install a Drainage System
Including a drainage system in your courtyard design is crucial. Without one, standing water can collect, leading to issues like soil and hardscape erosion, dead plants, fly infestations, bad odors, and, on a more serious note, foundation damage. For a discrete yet effective drainage solution for your courtyard, there is the Slot Drain System from LandScape Drains. This system can blend seamlessly with any design, going virtually unnoticed while keeping your space free from standing water.
Courtyard Design Ideas and Inspiration
With those tips in mind for creating the perfect courtyard landscape ideas, here are some pictures to help get you inspired.
1. Plenty of Greenery
One of the great courtyard landscape ideas people turn to frequently is greenery. You can create a peaceful outdoor oasis by putting lush green plants throughout the space. Tie the furniture in by using green cushions, like these homeowners did, with pops of color from flowers and pillows. If you go with this idea, choose low-maintenance, native plants.
2. Simple and Modern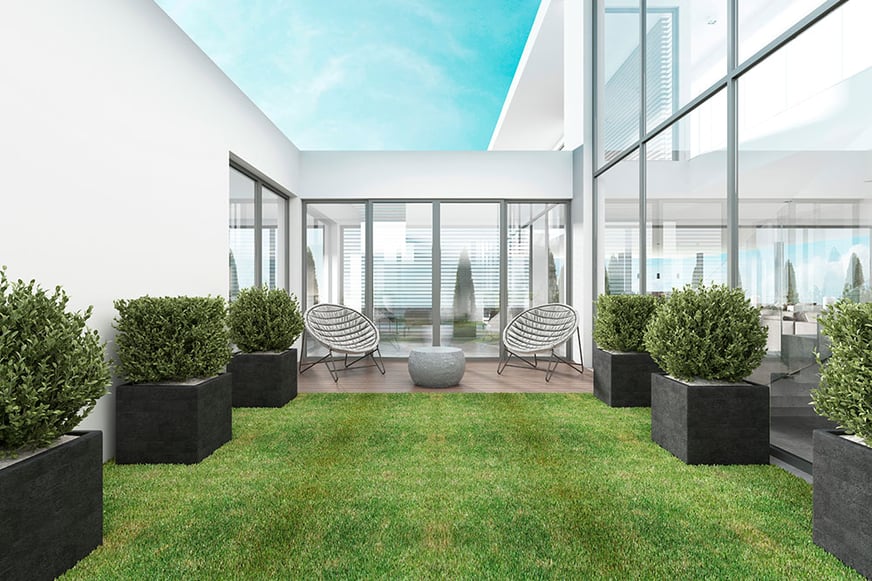 Simplicity is essential for small courtyard landscape ideas. These homeowners kept things simple and modern with a small seating area for two and planter box topiaries on either wall leading to the seating area.
3. Use Unique Materials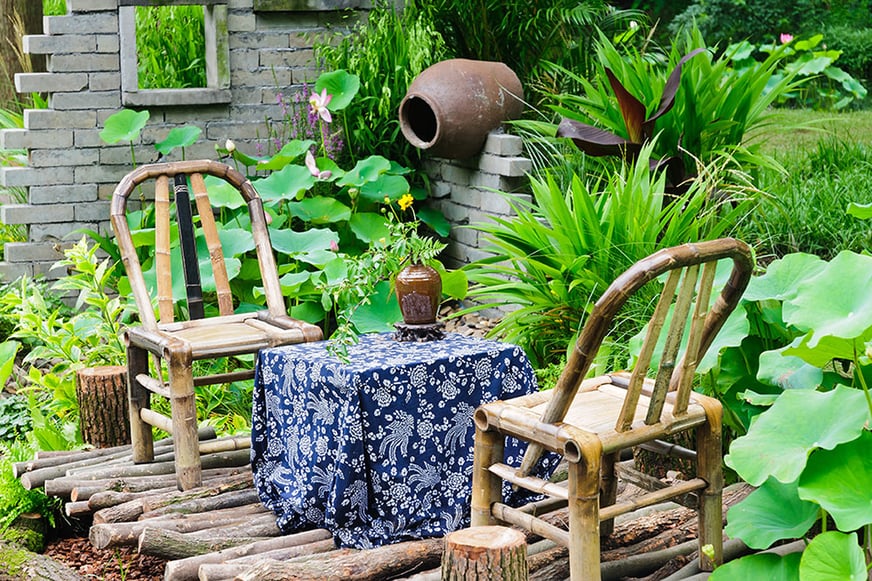 These homeowners came up with some clever ideas for their space. Instead of using the same materials as everyone else, they thought outside the box. Instead of pavers for the ground, they used branches and did the same for their seating. Overall, their courtyard landscape design ideas combine to create a design reminiscent of ancient ruins.
4. Place Pavers Randomly
When using pavers for the ground, many pavers stick with straight lines. Instead, consider placing them at random angles and surrounding them with gravel. This can help create a unique focal point in the courtyard.

5. Keep Things Classic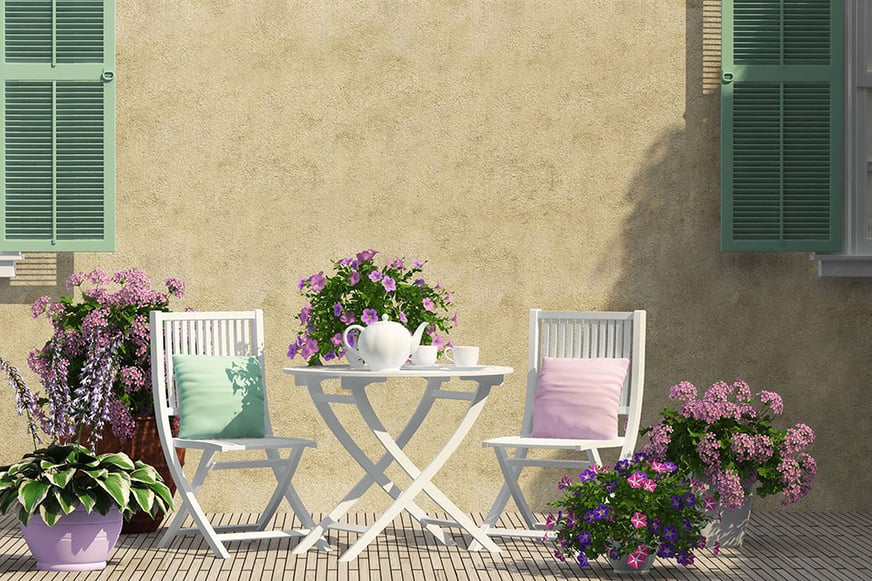 Creating a simple seating area makes for great front courtyard landscape ideas. Choose furniture in a simple color like white for a classic look. Place potted flowers all around the area in different colors to add more interest and match your seat pillows to the flowers. It may be a simple design, but it will be a nice area to relax with a friend.
6. Add a Water Feature
One of the most relaxing landscape ideas for small courtyard spaces is a water feature. There are many options to choose from, so you can easily find the perfect one for your space. Above is a unique example; an in-ground water feature set in a paved area with benches and greenery.
7. Add a Firepit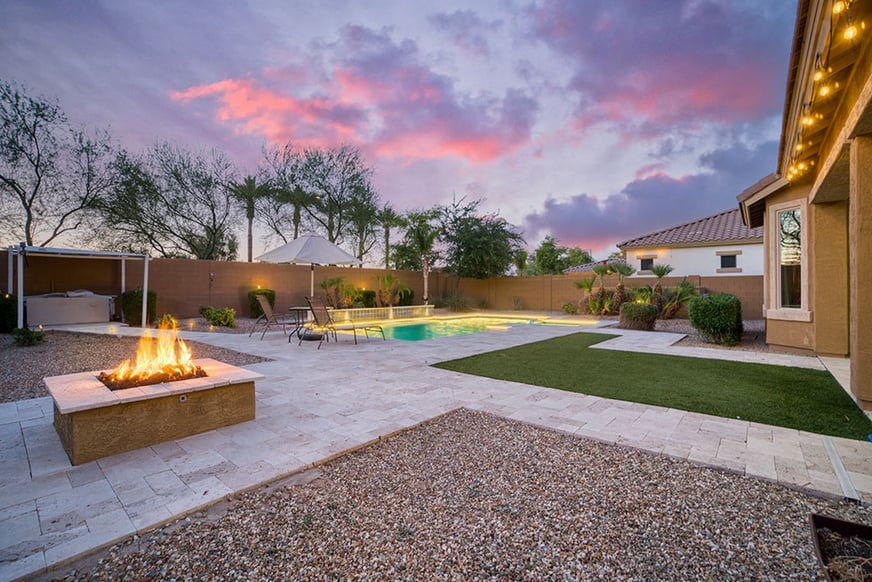 If water features aren't your style, you can add a fire pit. Fire pits also make for great gathering spaces, and there are many options; some can even function as a cooking surface. This homeowner created a paved area with deep, comfortable seats around a low fire pit.
8. Create an Oasis
This restaurant courtyard combines different courtyard landscape ideas. Here, the colors are mostly muted, with an arbor-like structure with light curtains at the corners. A raised platform with a plant adds more interest, with the vibrant pink flowers spilling out and growing through the top of the arbor.
9. Create A Secret Garden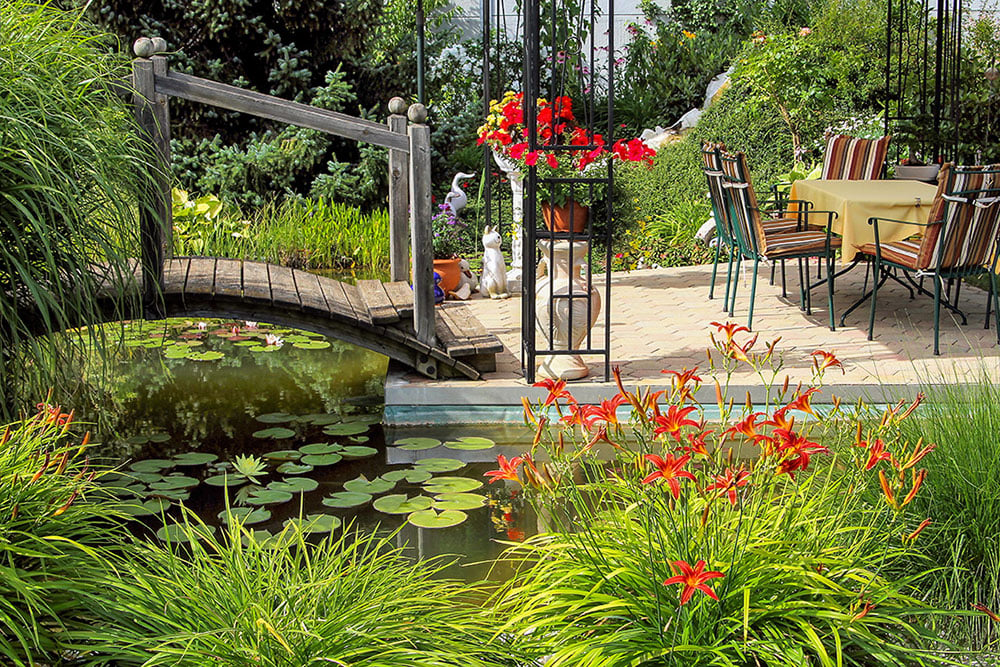 The steps in this courtyard lead you to a secret garden-esque retreat full of lush green plants and colorful flowers. A water feature further enhances the serene space; you won't want to leave once you enter.
Design Your Dream Courtyard
Courtyards provide a great opportunity to create a beautiful space that functions any way you like. It can be a gathering space for friends and family, a place to eat, or just a place to escape reality for a little while; the options are endless. Hopefully, this has helped you develop some of your own courtyard landscape ideas, so you can have a space you love. One thing to not forget is the need for a drainage system. This can make or break great landscaping, and virtually eliminate maintenance or cause severe headaches.
To learn more about landscape drainage and how the Slot Drain System can help, contact LandScape Drains today.