Not everyone has the same level of mobility. One person may be capable of walking up a set of stairs, but someone with mobility issues needs an alternative. For that reason, it is vital to ensure all public spaces are designed with ADA compliance in mind. It isn't limited to the accessibility of the space overall; it also includes the smaller features that most visitors would ignore. One of those smaller details is ADA-compliant grate covers for floor drainage.
What Does ADA Mean?
ADA is short for the American Disabilities Act, which was signed into law on July 26, 1990. This law is designed to protect those with disabilities by prohibiting discrimination of any kind and protecting their civil rights. The law created an agency that is tasked with helping oversee these rights. The agency has written numerous policies and regulations to help ensure the fair treatment of disabled individuals and to ensure that they have access to the same businesses and services as everyone else.
Some examples of regulations and requirements the agency has created include ensuring that buildings are wheelchair-accessible and providing specialized software for the hearing or visually impaired, and much more.
Why Is ADA Compliance Important?
Ensuring ADA compliance is essential to being an inclusive business and service provider. To disregard these requirements is to disregard an entire group's well-being. It can also lead to serious safety issues in some cases, like in the case of non-ADA-compliant grate covers.
What Are ADA Grate Requirements?
The ADA has also created specific requirements for ADA-compliant drainage and grate covers:
As with buildings and other locations, a trench drain cannot limit the access of wheelchairs. For grate covers to be ADA-compliant, they must meet several requirements:
Grate openings can be no more than 1/2" wide, the maximum width a wheelchair caster or other mobility device can pass over without becoming stuck or falling through.

To use grates with openings larger than 1/2", three conditions must be met:
There must be a main direction for the floor of foot and wheelchair traffic.

Gratings should take this direction into account, and the long side of the openings should be perpendicular to that direction.

The short side of the opening must not exceed 1/2" in width.
If there is no main direction of travel, both dimensions of the openings are limited to 1/2".

The surrounding pavement should not have more than a 2% slope, or about 1/4" per foot.
Meeting these requirements is critical to ensure that you comply with ADA guidelines and provide safe access to your building, business, or public space. Not having ADA-compliant grate covers also poses a safety hazard; anyone using a mobility aid, whether it is a wheelchair, crutches, or a walker, can get stuck, and their equipment can go through the openings of the grate. Grates that aren't compliant can result in serious injury, potentially leading to legal issues for you.
The ADA-Compliant Landscape Drains Trench Drain
Landscape Drains is one of the leading providers of landscape drainage, which works for various applications. Their trench drains are a sleek, linear, and ADA-compliant option that provides efficient drainage for areas with larger volumes of water. Unlike other systems, the Landscape Drains Trench Drain also offers ADA grates in three different styles.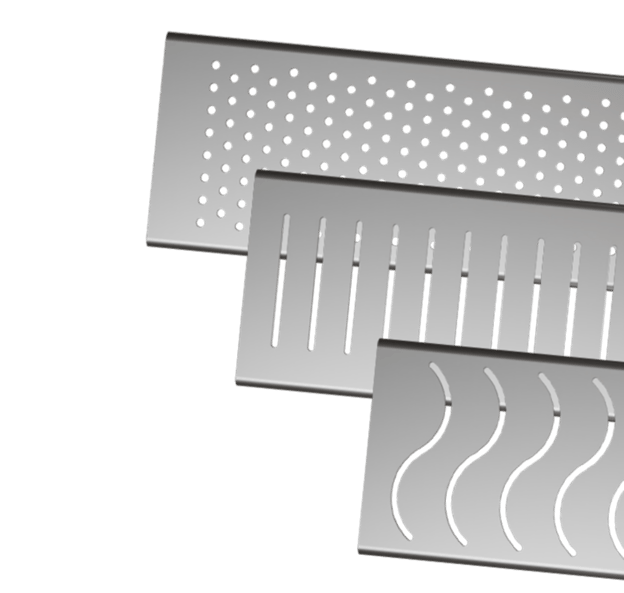 The Standard style grate cover features rows of circular holes that allow the water to pass through. The Modern style has straight lines, and the Designer option has wavy lines. All three styles meet the ADA grate requirements while allowing for a more customized look on your drainage system.
The system is compatible with the Landscape Drains Catch Basin and Strainer Basket, which can catch small objects and debris, and has its own customizable lid.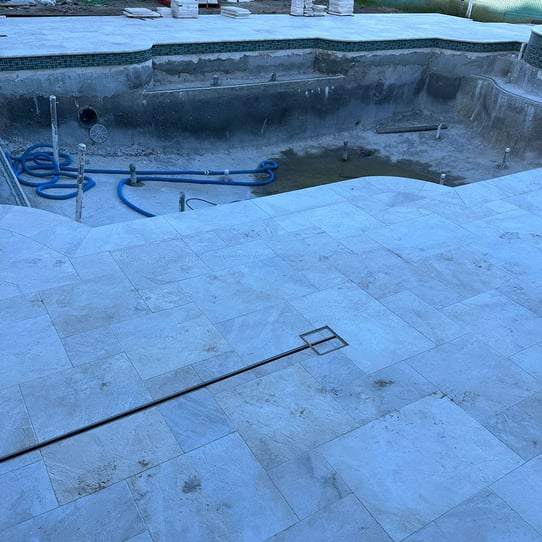 All system parts, including the ADA drain covers, catch basin, and strainer basket, are constructed using high-quality stainless steel. This ensures its durability and ability to withstand heavy traffic, making the Trench Drain suitable for various applications, including parks, sidewalks, and plazas. The stainless steel also ensures it will not rust or corrode if exposed to corrosive liquids. It is also very easy to clean, with the option of clean-in-place technology for automated cleaning, to make maintenance easier.
ADA-Complaint, Down to the Grates
ADA compliance is essential for all businesses. It is more than just having ramps, accessible parking, and other notable ADA features. You also want to have a compliant drainage system, including ADA grates, so that anyone with mobility issues can safely pass over. LandScape Drains offers an extremely effective trench drain system with three styles of ADA-compliant grate covers.
Contact Landscape Drains today if you want to learn more about the Landscape Drains Trench Drain and the ADA grate covers they offer.